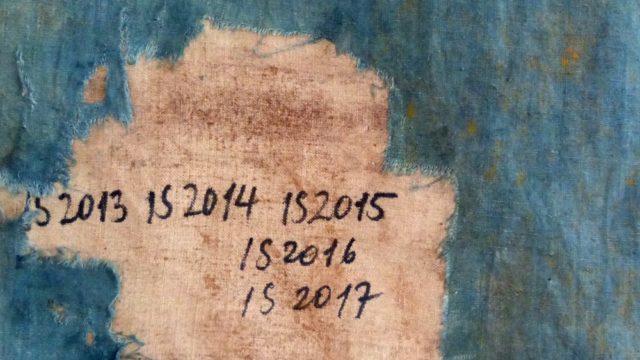 Tabula Rasa: une installation multiforme
« Tabula Rasa « , une installation multiforme nourrie des destructions des biens culturels dans le monde est en gestation. Elle parle de la destruction et du vandalisme par ignorance, par oubli, par cupidité, par nettoyage culturel et par fanatisme. Cette installation est en cours à l'Atelier La Source- Rodin de Meudon sous les auspices de La Source- Rodin Grand Paris et Le Musée Rodin.
Tabula Rasa: a multiform, multimedia installation covering the destruction across all eras of cultural heritage is in the works. It describes the destruction and vandalism by ignorance, cultural cleansing, fanaticism, greed and « economic progress ». As an artist in residence at the Atelier Maison des Ateliers La Source-Rodin and the Rodin Museum of Meudon, France, I have been developing my practice around this theme.
Tabula Rasa: A Visual Arts Installation on Memory
My current practice focusses on memory, individual, family and collective units. This specific area of interest has come about with my increasing fascination and research with antique objects finding themselves in unlikely situations and places.
One of the first times I was exposed to this was when I found a stack of notebooks belonging to a haberdasher of the 1950s. His life was there in front of me on the pavement. Another was the finding in an op-shop garbage bin of two objects, a turquoise oil lamp from 11th century  Afghanistan and a small stoneware perfume flask from 8th century Syria.
Why were they there? Why were they not recognized as precious in our XXI century garbage bins? Where had transmission of memory lapsed? 
Parallel to this is the fight against the weapons of cultural cleansing or eradication of memory. A weapon that is used today by states and armed groups for the control of the present. My revolt and horror at the plunder and destruction of Near and Middle-Eastern historic sites by armies, armed groups and thieves  has further stimulated my desire to work this area in my arts practice.
In 2013, I exhibited a large installation on the theme of tangible and intangible memories left behind when my family left the Old World to come to the New World ( The Unfinished Stories exhibition in Biarritz), especially moving to me as it was exhibited in my mother's birthplace, place of mass Basque migration to the New World (USA, Chile and Australia).
In 2015 I reworked the idea in the Diaspora exhibition in Bayonne, France on the theme of an individual ; Conchi Mendiolea ( a Basque woman who lived in Townsville, Queensland) and her story as a Basque immigrant to Australia in the cane fields  and the transmission of memory through her descendants. 
It felt right to work the collective memory. I am starting with the birthplace of civilization; Mesopotamia,  which offers rich material and many dilemmas. To me its destruction and plunder is the ultimate effacement, eradication and destruction of humanity's collective memory.
Beneficial to my arts practice too is the contact with other fields outside my expertise, the memoirs of armies, contact with museums, foreign affairs diplomats and investigations  Interpol, US authorities in Iraq, Foreign Affairs in Cultural Revolution times in China, travellers to Bamiyan etc.
I see myself as being of both Old and New Worlds, with research and creation around these themes relevant globally.
Drawing from treasures to be found in several Paris Museums, the Louvre and the collection of Rodin's antique artefacts he gleaned from many sources in the XIX century, I am researching and creating an installation highlighting the extraordinary richness of  art currently in danger from cultural vandalism and ethnic cleansing due to lack of or poor government.
I use graphics, photography, imprinting and installation to create a scénographie featuring how Mesopotamia has shaped our artistic vision and continues to inspire XXI century artists today. Focusing on domestic, sacred and royal artefacts I have studied the clays, the glazes, the motifs, the inscriptions and forms to further my own practice, which has often used the memory of objects and their narrative to shape my creative vision.
My interest in archaeology has always been intense. 
I spend time in its presence, drawing from the ancient-ness of human creation and slowly extracting from the architecture and objects the language which aptly describes them. The research includes contacting Near East specialists, artists in war-zones, deciphering inscriptions, collecting rubbings and comparing visual interpretations as well as meeting specialists who return to Mesopotamian countries to preserve national heritage. The issue is of burning significance at the present time, with pillage, trafficking and ultimate destruction a common occurrence in times of war and lack of governance.
Research and creation emanates from many other epochs from the French Revolution to cultural destruction during the Russian revolution as well as the Cultural Revolution in China, the Armenian genocide, those responsible for the pillage of Iraqi and Syrian archaeological sites and Islamic State vandalism. I will also analyze vandalism taken for economic progress in a host of countries with ancient architectural precincts erased from memory.
With a wealth of material I return to the studio to create a large installation which  includes objects, textures, drawings and other media describing the « ruins » left behind by humanity, allowing the transmission of past civilizations. This may take the form of a construction/destruction happening, with the « ruins » of my construction becoming objects in their own right as pieces of an untold or an unfinished story…that may be shaped as a whole again, altering perhaps their original meaning. In « rearranging » ruins, I will be highlighting how a part of an object can have greater significance than its whole and how we attribute significance through our own cultural prisms. A variety of media including ceramic, stone, wood, paper, digital print will compose the ensemble.
Starting by a long primary phase of research which led to me to consult Interpol data to find traces of disappeared, pillaged and destroyed objects,the Afghan women series started taking shape, following elements of  destruction of Vietnamese architecture, Russia, Turkey, revolutions, Egypt, Palmyra.. Then a long phase to copy the ancient skill of Sumerian cylindrical seals on soapstone to imprint clays with elements of objects long disappeared from museums but which surreptiously appear in antique shops.
Studying the impact of labels on museum objects in museology, I began to work on the idea of creating wholesale codes for labelling my own artwork, designating the destroyers and the year of their misdeed. I imagined the orphaned lables left behind once the pillagers had been and gone.
For the present time, I also see my approach as important to the understanding of the wealth of art and cultural history of the Near East, currently torn apart by war and cultural destruction. The positive focusing on its antiquity by a Western artist is of importance to the preservation of such artefacts and may heighten the degree of significance surrounding the countries which currently are associated with war and terror rather than with beauty and civilization.
My area of research and creation is of significance to the arts, cultural, academic communities as well as voicing the concerns of many displaced people.