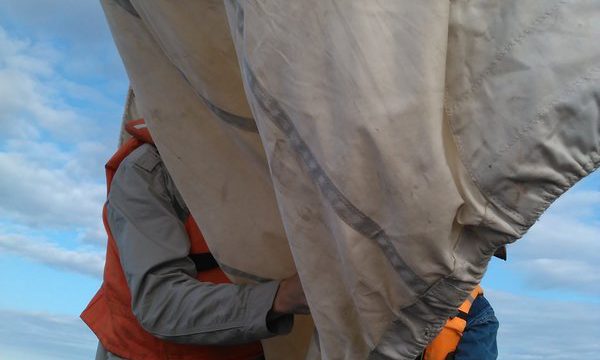 Art Residency, Karelia, Russian Federation
Installation, « The Message Ship », Vodlozersky National Park, Karelia, Russian Federation
THE MESSAGE SHIP ARTWORK BY CAMILLE MASSON-TALANSIER, VODLOZERSKY NATIONAL PARK
The Message Ship project's initial inspiration is derived from the 2013 24heures de l'Innovation Challenge (24 hour International Innovation Challenge) in the ESTIA School of Engineering Biarritz, France. I was involved in the reflection around the towing of cargo-ships with kites, a concept which already exists to lower fuel consumption in the shipping industry. In this instance artists and engineers were teamed up to conceive new kite forms.
Taking the concept symbolically to Karelia involved different research avenues; where to do it? How should I explore the ship concept so as to express the idea of an ode to mariners as well as those who stay behind, usually the women? I wanted the ship to bear the stories of mariners but was hindered by my lack of Russian.
The opportunity of creating a land-art installation in Vodlozersky National Park seemed the most appropriate solution for my project. Before leaving for the park I researched the fishing industry exhibits of the National Museum of Karelia in Petrozavodsk. I noted how birch bark was used as floaters on fishing nets, how salmon fish traps were constructed, how pearl fishermen used heaped-up branches and leaves to create a mattress-like structure on their rafts, the dimensions and type of crafts such as the Pomorsky and Vodlozersky, the double canoes and even went sailing in a small handmade vessel made by a local team of boat-builders in Petrozavodsk harbour.
In Vodlozersky, wood is at the heart of everything in the forest, breeding insects for birds and fish, as well as providing warmth and shelter for humans. Water creates distance and islands become hermitages and ships are a means of transport as well as a means of commerce and a vehicle for the dissemination of ideas. Searching for a safe harbour is always the mariner's obsession with weather patterns of the lake on the move constantly.
The Message Ship is made from branches and leaves that have been roughly sewn together with antique rope from France. No branches were cut down to make the artwork, making the whole project easier and more ecological. Cut branches found onsite were used. The Ship stands on the oval of Kuganavalok, halfway between the village and a stand of forest. It is in the shape of a Pomorsky vessel, attached to several trees so as to create support for the structure.
The vessel is lifted up on one side as a stylized prow and attached to a tree. I bent the trees to create arcs of birch as I had seen in the forest coming in…birch saplings that had been naturally swayed by the weight of the last snow. Suspended from the vessel and its structure is a series of natural matriochkas, balls in which have been placed fishnet, (marking the mariners' presence, life and toil) found onsite in which messages written on birch-bark are wrapped,then wrapped up in birch leaves and tied up with rope.
Hanging from the ship is also a host of bark floaters in reference to the nets seen in the museum. Messages suspended from the ship include; To the boatmen of Kuganavalok and to their wives, to all the mariners who have lived and died in this place from old age and man's doing, to your boats may they carry you far, to the holy men and women of Russia, to peace and silence, to mariners' wives who have made Kuganavalok a village, for all of us, to those who love truth, for all those who work and suffer, to the trees, to the mosquitoes who give food to the birds thank you God, Kyrie Eleison, To Russia, to Life, to the lakes and rivers that feed men ,to all those who helped me get here…
In my mind, it's a boat with which can remain static, like the many bleached and worn carcasses to be found on the shores of the lake. It can be used to escape with too, from men and from troubles, leaving, retreating from the world to find peace and a dialogue with nature.
It's also a metaphor for the discovery of others and their ways and the exploration of new worlds such as our French, Portuguese, Spanish, Dutch, English navigators and Peter the Great did so honourably.
Symbolically I have used several Karelian and Russian codes to express my artistic ideas in a strong connection to the land and its people. It was a very tactile experience working with Karelian nature, its trees, branches, leaves and mosquitoes! So this is Russia I kept telling myself ! I'm holding great sheaths of its life and breath, feeling its cold and humid earth, hearing the silence of its lakes, reinventing a portion of Russian soil as I would paint a still-life, a nature morte.
I loved doing this project which will stay for me like a mute dialogue with Russia and its nature, made from subtle codes and perceptions. It is an ode to the people of the lakes and seas. I have an immense sense of gratitude to all those who made this happen, especially the Center of Cultural Initiatives and the Vodlozero Park authorities who supported my land-art project.